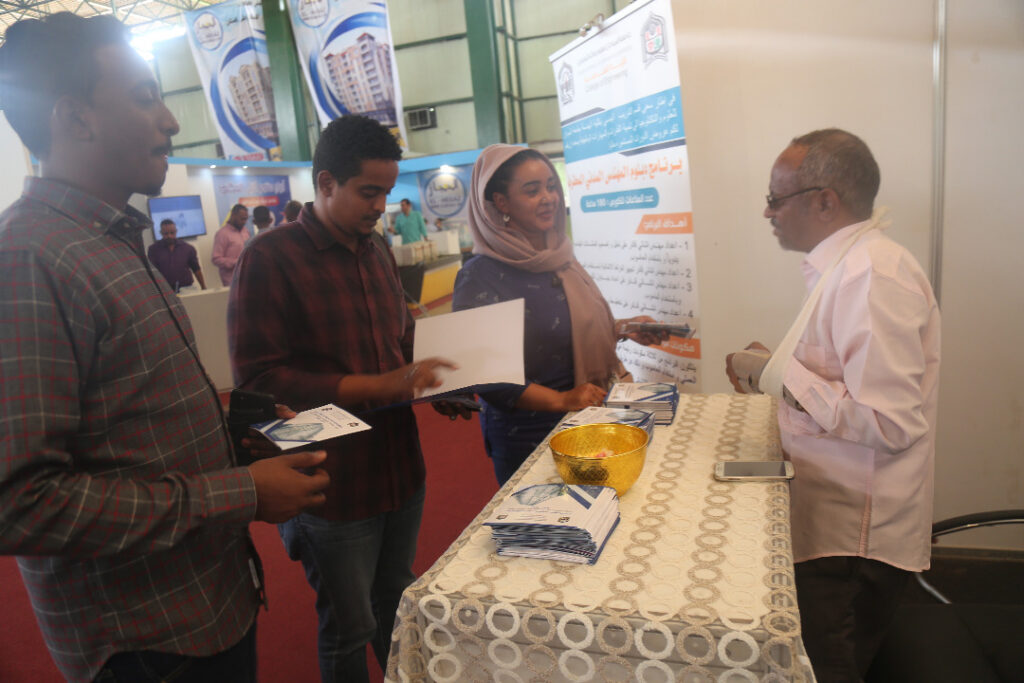 The activities of the real estate market exhibition were held at the real estate exhibition in the exhibition grounds in Burri, in which the College of Engineering at Sudan University of Science and Technology participated, and it reflected the roles played by the university in various aspects of real estate operations, such as marketing, development, training and consultancy. The participation of the College of Engineering was supervised by Dr. Al-Taher Abu Al-Qasim, Dean of the College, under the patronage of Prof. Dr. Awad Saad Hassan, Vice President of the University, and with the participation of a large number of professors, advisors and students.
Dr. Altahir Abu Algasim explained, saying: "Our participation came from the standpoint of providing consulting services and training provided by the college and the Engineering Consulting and Training Center at the college. The participation was a good opportunity to present our training courses and engineering consultancy in all fields related to civil, mechanical, electrical, surveying and all other disciplines in the college, and in particular the  assessment of assets and real estate."
He also mentioned that the College of Engineering is the only body that provides courses in the real estate field, and referring to the distinguished agreement and partnership with the Central Bank of Sudan, which resulted in the implementation of 17 training courses. Furthermore, a training course was conducted during the exhibition, that found a great turnout and attendance.
Dr. Altahir also explained that the companies and institutions that participated in the exhibition were working in the field of real estate development and marketing, but the university's participation was distinguished and unique in reviewing scientific and research consultations, real estate appraisal, and knowledge and logistical support. He also indicated that the outcomes of their participation in the exhibition were represented in: Opening channels for scientific communication and building smart and wide partnerships for exchanging experiences, consulting and training.
It is worth mentioning that the visitors of the exhibition confirmed that the university's participation in the exhibition gained them knowledge of the true and correct form of real estate financing, and everyone demanded that they conduct more qualification and advisory courses so that they can evaluate the real estate market without resorting to (brokers) who present wrong, unreported or studied studies.