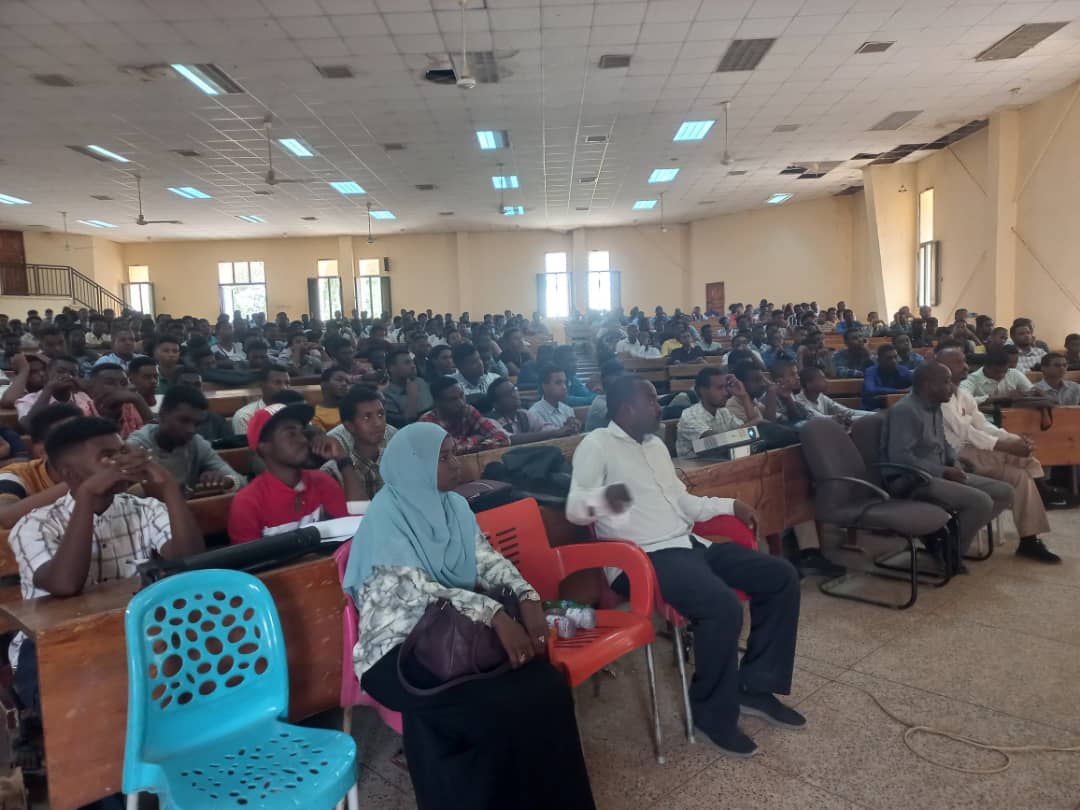 The administration of the College of Engineering at Sudan University of Science and Technology organized a student orientation and an enlightenment program for the newly admitted first-year Bachelor students, who were accepted for the academic year 2021-2022. The program was inaugurated by Prof. Eisa Bashier Mohamad, vice chancellor of the university, Dr. Mohamed Al-Amin Ahmed Babiker, Dean of the College of Engineering, heads of departments, school directors, other staff, students and their families.
Prof. Eisa Bashier Mohamad welcomed the new students at the College of Engineering and wished them success in their scientific live. He said, "Welcome to the Citadel of Science and Technology .. an institution with a long academic history. I hope that you will benefit from this legacy and invest what has been made available to you of modern technologies in various fields in order to benefit the student during his research for the possibility of creating the desired scientific development, especially since your university has been known to follow the accelerating pace of science".
Furthermore, his Excellency pointed out the importance of intellectual cross-fertilization among everyone, especially through the use of modern media and technologies and the numerous electronic interaction platforms. He also indicated that all means are available to the student for giving, effort and diligence, as the halls are equipped and the laboratories and workshops are ready where the doors are open for all.
Dr. Mohammad Al-Amin Ahmed expressed his appreciation for the efforts spent for the new students orientation program and said "Engineering students are among the most distinguished and most successful consultants in the future of their lives in the field of engineering". He also affirmed that all arrangements for the beginning of the academic year have been completed, and indicated that the college has the most skilled and most efficient cadres and professors with experience and excellence.
It is worth noting that the enlightenment meeting lasts for three days, during which awareness and guidance lectures and academic seminars are presented on e-learning systems, registration, calendar, schedules, examination system and regulations. The heads of departments also gave a detailed explanation of the academic disciplines and programs.